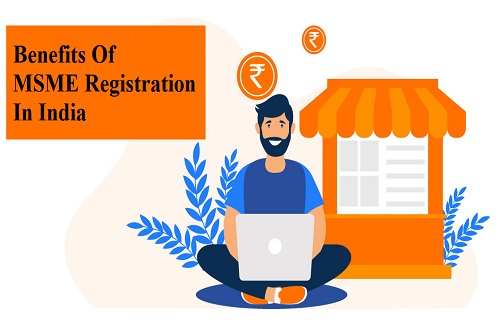 1) Protection against Delayed Payments
If the buyer delays payment for more than 45 days after receiving the goods or services, the buyer will have to pay compound interest along with the amount of interest (monthly) agreed to be paid. The interest rate is three times the rate notified by the Reserve Bank of India
2) Income Tax Exemption
Enterprises that have MSME registration can enjoy direct tax Exemption in the first year of business, as mentioned in the government scheme and depending on the business activity.
3) 1 % Exemption of Interest on Overdraft
MSMEs who have a good credit history and a good relationship with the bank can avail overdraft benefits. MSMEs get 1% exemption on interest on overdraft facility. This can be extremely beneficial for MSMEs. However MSMEs should check with their lenders as not all banks offer this facility.
4) Collateral Free Loans
One of the major benefits of MSME registration is the unsecured loan that can be availed through banks and NBFCs. This means that SMEs and MSMEs can now take out various loans such as working capital loans and credit line loans without any collateral.
5) 50 % Subsidy on Patent Registration
If you create something new, a new innovative product or business model and want to patent it, a hefty fee for patent registration applies. But with MSME registration, one can get patent registration at 50% subsidy. The goal of this initiative is to encourage more entrepreneurs to innovate and innovate. They can get 50% subsidy by registering with their respective industries.
6) Concession in Electricity bills
Enterprises with MSME Certificate can get relief in case of electricity bill by applying to the Department of Power along with MSME Registration Certificate.
7) Reimbursement of ISO Certification charges
Enterprises with MSME Registration Certificate can apply to the concerned authorities for compensation of ISO certification cost.
8) Waivers in Security Deposit and EMD in Government Tenders
From time to time the government has announced many tenders where only MSME industries can apply, waiver of government tender security deposit and exemption from payment of deposit when issuing tenders.
9) A subsidy for Bar Code registration
Businesses registered with MSME receive subsidies for bar code registration. Barcodes are given in the form of numbers and parallel lines, which are machine readable. Barcodes are essential for keeping track of products throughout the entire supply and chain management process.
10) Only MSME Units are registered on TReDS Platform
TReDS is an institutional arrangement designed to facilitate MSME invoicing discounts from corporate buyers through multiple financiers. TReDS involves three participating MSME suppliers, corporate buyers and financiers. Three available TReDS platforms are 1. www.invoicemart.com 2. www.m1xchange.com 3. www.rxil.in
Related Articles
Working Capital Simplified Via TReDS In 24-72 Hours
Documents Required for Msme Registration
Udyam Registration Certificate Download
How To Get An MSME Loan For A New Business?
MSME Loan In 59 Minutes