Online MSME Registration in India @ Best Price
Update on: 07-March-2023 09:11:11 AM | Published on: 27-April-2022 05:44:27 PM | 14 Minutes Read
Ideal for Trading, Manufacturing & Service Industry, the benefits under Government Schemes
MSME/SSI/UDYAM Registration at Rs. 1000/- within 1-2 days, Lifetime Valid Certificate
Table of Contents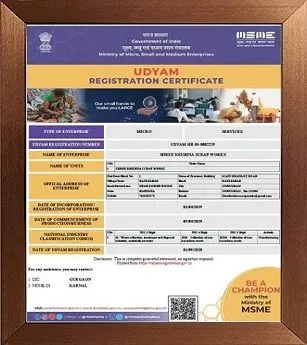 Sample MSME Certificate
Instruction For MSME Registration Form
AadhaarNumber : Udyam Registration will require an Aadhaar number. The Aadhaar number must belong to the proprietor In the case of a proprietorship firm, the controlling partner in the case of a partnership firm, and a karta in the case of a Hindu Undivided Family (HUF). उद्यमपंजीकरणकेलिएआधारसंख्याकीआवश्यकताहोगी।आधारनंबरप्रोपराइटरकाहोनाचाहिए।एकप्रोपराइटरशिपफर्मकेमामलेमें, पार्टनरशिपफर्मकेमामलेमेंकंट्रोलिंगपार्टनरऔरहिंदूअविभाजितपरिवार (एचयूएफ) केमामलेमेंएककर्ताहोनाचाहिए।
Name of Applicant : Put the applicant's name exactly as it appears on their Aadhaar card. आवेदककानामठीकवैसाहीलिखेंजैसाउनकेआधारकार्डपरदिखाईदेताहै।
Type of Organization : Choose the sort of business from the list of possibilities that will appear on the MSME Certificate. एमएसएमईप्रमाणपत्रपरदिखाईदेनेवालीसंभावनाओंकीसूचीमेंसेव्यवसायकाप्रकारचुनें।
PAN: Fill in your 10-digit PAN number for business. (In case of proprietorship Submit owner's PAN number). व्यवसायकेलिएअपना 10 अंकोंकापैननंबरभरें। (स्वामित्वकेमामलेमेंमालिककापैननंबरजमाकरें)
Mobile No & E-mail ID: Enter the applicant's mobile number and email id (The Certificate will be sent to that specific E-mail). आवेदककामोबाइलनंबरऔरईमेलआईडीदर्जकरें (प्रमाणपत्रउसविशिष्टई-मेलपरभेजाजाएगा)
Social Category : Choose the applicant's social category from the list of alternatives. विकल्पोंकीसूचीमेंसेआवेदककीसामाजिकश्रेणीकाचयनकरें।
Gender : Choose if the applicant is a male or a woman. चुनेंकिआवेदकपुरुषहैयामहिला।
Physically Handicapped : Choose if the applicant has physical impairments or not. चुनेंकिआवेदकशारीरिकरूपसेअक्षमहैयानहीं।
Name of Enterprise / Business : Enter the business or enterprise name that will appear on the MSME Certificate. व्यवसाययाउद्यमकानामदर्जकरेंजो MSME प्रमाणपत्रपरदिखाईदेगा।
Location of Plant : Mention the full plant address of the applicant including the state district and pin code. राज्यकेजिलेऔरपिनकोडसहितआवेदककापूराप्लांटपतालिखें।
Office Address : Mention the applicant's full business address, including the state, district, and zip code. राज्य, जिलाऔरज़िपकोडसहितआवेदककापूराव्यावसायिकपताबताएं।
Date of Incorporation / Registration : Mention the date that the company was started, this date will appear on the MSME Certificate. जिसतारीखकोकंपनीशुरूकीगईथीउसकाउल्लेखकरें, यहतारीखएमएसएमईप्रमाणपत्रपरदिखाईदेगी।
Bank Name, Account Number and IFS Code : Fill the bank details is printed on the Cheque Books. बैंकविवरणभरेंचेकबुकपरमुद्रितहोताहै।
Primary Business Activity : Choose NIC code of your Business. अपनेव्यवसायकाएनआईसीकोडचुनें।
Person Employed : Please provide the number of employees at your company. कृपयाअपनीकंपनीमेंकर्मचारियोंकीसंख्याप्रदानकरें।
Submit &Pay : To finish the procedure, click the Submit & Pay button. प्रक्रियासमाप्तकरनेकेलिए, सबमिटकरेंऔरभुगतानकरेंबटनपरक्लिककरें।
Overview of MSME | Udyam Registration
MSME stands for Micro, Small, and Medium Enterprises. The MSME sector is a significant contributor to the Indian economy, generating employment and promoting entrepreneurship. To support and promote the growth of MSMEs, the government of India has launched various schemes and initiatives.
UDYAM registration is a process of registering MSMEs under the Ministry of Micro, Small, and Medium Enterprises. The registration process is entirely online, and MSMEs can easily apply for it by providing basic details about their business, such as name, PAN, Aadhaar number, location, and bank account details. After successful registration, the MSME receives a unique UDYAM registration number.
What is MSME | UDYAM Classification?
There are 3 types of MSME Sector are eligible
1) Micro Businesses with less than Rs.1 Crore in investment and Rs. 5 Crores in revenue.
2) Small Businesses with less than Rs.10 Crore in investment and Rs. 50 Crores in revenue.
3) Medium Businesses with less than Rs.20 Crore in investment and Rs. 100 Crores in revenue.
Procedure For MSME | Udyam Registration
Here is the procedure for Udyam Registration:
Visit the Udyam registration portal.
Click on the "For New Entrepreneurs who are not Registered yet as MSME or those with EM-ll" button.
Enter the Aadhaar number and Name mention on Aadhaar card
Validate your Aadhaar using the OTP.
Enter the PAN Card Number and Validate.
Filling of Udyam registration form such as personal, business, and bank account details.
Click on the "Submit" button to complete the registration process.
After the submission you will receive a unique Udyam Registration Number (URN).
Generate the Udyam Certificate with this URN.
Note: The entire process of MSME and Udyam Registration is completely online, and there is no need to visit any government office or fill any physical form. You can complete the registration process from the comfort of your home or office.
Documents Required For MSME | Udyam Registration
Here are the documents required for MSME or Udyam Registration:
The mobile link Aadhaar Card of the authorized person of the business is required.
PAN number for business. (In case of proprietorship Submit owner's PAN number)
Bank Account details of the business are required for Udyam Registration.
Note: The Udyam Registration Portal, which is integrated with the Income Tax and GSTIN systems, would automatically pull PAN and GST-related information on investments and turnover of businesses from the Government databases.
Benefits of MSME | Udyam Registration
There are several benefits of Udyam Registration, some of which are:
Udyam Certificate valid for lifetime
There will be no need for renewal of Registration
MSME Registration is paperless and based on self - declaration
Credit Guarantee Scheme
Public Procurement Policy
Additional Advantage in Government Tenders
Enterprises may register themselves on Government e-Market place (GeM)
MSMEs themselves can also onboard on TReDS Platform
Protection Against Delayed Payments
Exemption on Overdraft Interest Fee
Subsidy on Patent and Trademark Registration
Electricity Bills Concession
ISO Certification fees Reimbursement
Tax Exemptions
Overall, UDYAM registration offers several benefits to small and medium-sized enterprises, which can help them in their growth and development, and contribute to the overall growth of the Indian economy.
Who can Apply for Udyam Registration?
Any type of business entity can apply for Udyam Registration, including:
Sole Proprietorship
Partnership Firm
Limited Liability Partnership (LLP)
Private Limited Company (Pvt. Ltd.)
One Person Company (OPC)
Co-operative Societies
Hindu Undivided Family (HUF)
Association of Persons (AOP)
Trusts
Any other entity that meets the eligibility criteria.
To be eligible for Udyam registration, the business entity should fulfill the following criteria:
It should be a micro, small or medium-sized enterprise, as per the definition provided under the Micro, Small and Medium Enterprises Development (MSMED) Act, 2006.
For manufacturing enterprises, the investment in plant and machinery should not exceed Rs. 50 lakh for micro, Rs. 5 crore for small, and Rs. 10 crore for medium enterprises.
For service enterprises, the investment in equipment should not exceed Rs. 10 lakh for micro, Rs. 2 crore for small, and Rs. 5 crore for medium enterprises.
The entity should have a valid PAN card and Aadhaar number of the authorized signatory.
The business entity should not be engaged in any illegal or prohibited activity.
It is important to note that Udyam registration is voluntary and not mandatory. However, registering under Udyam can provide several benefits to the registered entities, as mentioned earlier.
MSME | UDYAM Registration Fees
Our expert will file your application on your behalf. A very simple procedure has been prescribed for MSME Registration. It requires no manual intervention or no physical paper submissions. Our Fees: Rs. 1000/- (All inclusive price)
Frequently Asked Questions
Q: What is UDYAM Registration?
The Government of India has set up a complete system to aid in the registration process. For the purposes of this process, a business shall be known as Udyam, and the registration process will be known as "Udyam Registration." After registration, a permanent registration number will be provided. This system launch on July 1, 2020.
Q: What is MSME Registration?
The businesses that come under the MSME category are those which are engaged in the manufacturing or production of goods or are involved in providing services. According to the Micro, Small, and Medium Enterprises Development (MSMED) Act, 2006, the following enterprises are eligible to be classified as micro, small, or medium enterprises.
Q: Is MSME Registration free?
There is no fee payable to government for Udyam registration. Similar to this, the government offers several services at no cost, for example - GST Registration, PF & ESIC Registration etc. If you do yourself then no fee is payable while consultant may change some for registration as his professional fee.
Q: How much take time does the Udyam Registration Process?
The Udyam Registration process can be completed online within a few minutes, provided all the necessary documents and information are readily available.
Q: Can we apply MSME without GST?
PAN and GST numbers must be obtained as of 01/04/2021. Only enterprises that are exempt from GST are applying for MSME without GST Registration, for example - Goods Transportation Agency (GTA)
Q: Is bank account mandatory for MSME registration?
Yes, latest bank account details of business are mandatory in Udyam Registration
Q: What is the tax rate for MSME?
Some businesses are eligible for a tax rate of 25% rather than the standard 30% under section 115BA of the Income Tax Act. It only includes the MSME sector, with one of the requirements being a turnover of up to 400 crore.
Q: How do I get my NIC code for MSME?
If you visit the page https://bit.ly/nic-code-list, you can quickly find out the NIC code for your business. Without visiting this website, finding the NIC code for any company would not be very simple. The business's NIC code is often a five-digit number that varies from firm to company.
Q: How to check the status of Udyam Registration?
By logging in to the registered account on the Udyam Registration portal, it is possible to monitor the status of Udyam Registration online.
Q: Is Udyam Registration mandatory?
No, Udyam Registration is not required. It is optional. To the registered entities, however, there are a number of advantages to Udyam registration.
Q: Can a shopkeeper apply for Udyam registration?
Anyone who meets the updated MSME classification criteria for yearly sales and investment can apply for MSME registration in the manufacturing, service, wholesale, and retail sectors.
Q: Is it necessary to register udyam registration near me?
No, Udyam Registration is online process you can do this registration anywhere in India.