MSME / Udyam Registration
Register a MSME / Udyam at ₹ 750/- in 1day.
Lifetime Valid Certificate for Trading, Manufacturing & Service Industry, MSME / Udyam Registration completely online process, paperless and based on self-declaration, No documents or proofs need to be uploaded.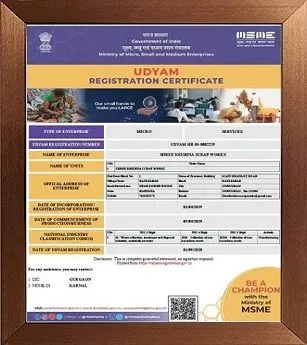 Sample MSME Certificate
Msme Registration
MSME Registration Online
MSME stands for Micro, Small, and Medium Enterprises and it is the backbone of the economy. MSME is the top executive body for the implementation and administration of rules, regulations and laws related to micro, small and medium enterprises. Both the manufacturing and service sectors can apply for registration.
MSME Registration Procedure
Simple 3 easy steps you can follow for MSME Registration, which is known as "Udyam Registration"
Submit the Application Form and make the payment,
Our executive will process the Application,
You will received Udyam Certificate on your registered e-mail.
List of Documents Required for Msme Registration
No documents or proofs need to registration, one application form is required to fill up for registration, the details mention below:
Aadhaar Number : Mobile Number Must Be Registered With Aadhaar for OTP Verification
Name of Entrepreneur/Applicant : Aadhaar Card Name
Social Category : General, Scheduled Castes, Scheduled Tribes, Other Backward Classes
Type of Organisation : Proprietorship, Partnership, LLP, Private Limited etc
Mobile Number : Fill the correct Mobile Number of Applicant
Email ID : Fill the correct Mail ID of Applicant
Gender : Male, Female
Name of Business/Enterprise : Fill the name of Business which will get printed on MSME Certificate.
Location of Plant Address and Office Address: Mention Applicant's Full Plant and office Address with State, District and Pin code.
Date of Incorporation / Registration : Fill the Registration date of Business which will get printed on MSME Certificate.
Bank Details : Fill the IFSC code, Account Number, Bank Name is printed on the Cheque Books
NIC Code : Choosing a primary activity of business
Person Employed : Number of staff on involve in business
Steps to Establish a MSME
MSMEs are categorized into manufacturing and services sectors. The sector is classified according to investment and turnover. Below is a classification of micro, small and medium enterprises.
| | | |
| --- | --- | --- |
| Criteria | Investment | Turnover |
| Micro Enterprises | Less Than Rs. 1 Cr. | Less Than Rs. 5 Cr. |
| Small Enterprises | Less Than Rs. 10 Cr. | Less Than Rs. 50 Cr. |
| Medium Enterprises | Less Than Rs. 50 Cr. | Less Than Rs. 250 Cr. |
MSME Registration Fees
Our expert of e-startup.in will file your application on your behalf. A very simple procedure has been prescribed for MSME Registration. It requires no manual intervention or no physical paper submissions. Our Fees: Rs. 750/- (All inclusive price). You can visit the official website directly for free registration.
MSME Registration Benefits
MSME provides various benefits to Micro, Small, and Medium Enterprises. A Few of them are mentioned below:-
Exemptions Direct Tax Laws : Enterprises that enclose MSME Registration can benefit from Direct Tax Exemption in the early year of business, as stated in the scheme by the Government & depending on business activity too.
Exemption On Overdraft Interest Rate : Enterprises or Businesses registered under MSME can gain a benefit of 1% on the Over Draft as stated in a scheme that varies from bank to bank.
Helps In Obtaining The Government Tenders : MSME assists to acquire government tenders with no trouble as Udyam Registration Portal is incorporated with Government e-Marketplace & various other State Government portals which present easy access to their marketplace & e-tenders.
Concession In Electricity Bills : This concession is accessible to all the Enterprises that have the MSME Registration Certificate by providing an application to the department of the electricity along with the certificate of registration by MSME.
Claim Expenses For The ISO Certification : The registered MSME seeks the reimbursement of the operating cost that was spent for recognition of ISO certification.
Collateral Free Loans From Banks : The Government of India has authorized collateral-free credit available to all small & micro business sectors. This scheme guarantees funds to micro and small division enterprises. Under this very scheme, both the old and new enterprises can seek the benefits. The 'Credit Guarantee Fund Scheme' (CGS) for Micro & Small Enterprises launched by the Government of India to make accessible collateral-free credit to the micro & small enterprise sector. Both the existing & the new enterprises are entitled to be covered under this scheme.
Subsidy On Patent Registration : A hefty 50% subsidy is given to the Enterprise that has the certificate of registration granted by MSME. This subsidy can be availed for patent registration by giving applications to the respective ministry.
Bar Code Registration Subsidy : All Enterprises that have MSME Registration can gain Bar Code Registration subsidy as declared in the scheme.
Industrial Promotion Subsidy Eligibility : Businesses registered under MSME are also qualified for getting a subsidy for Industrial Promotion as recommended by the Government.
Protection Against Delayed Payments: If the buyer delays the payment for more than 45 days after accepting the products or services then the buyer has to pay compound interest along with interests (monthly) on the amount that was agreed to be paid. The interest rate is three times the rate that is notified by the Reserve Bank of India.
Waiver Of Stamp Duty And Registration Fees: All new industrial units containing MSME Registration & expansions will be exempted from payments of Stamp Duty & Registration fees in India.
Eligible For Industrial Promotion Subsidy : All Enterprises that are registered under MSME Registration qualified for Industrial Promotion Subsidy (IPS) in the scheme.
15% CLCSS Subsidy To Purchase Of Plant & Machinery: The Ministry of MSME is operating a scheme particularly CLCSS "Credit Linked CGSTI Subsidy Scheme" for technology up-gradation of MSE. The revised scheme aims at assisting technology up-gradation of MSEs by giving a 15% capital subsidy (limited to a maximum of Rs.15 lakhs) for the purchase of Plant & Machinery.
MSME Helpline Number
For general queries, MSME Helpline number 011-23063288
For administration queries for Udyam Registration or Udyam Registration Certificate, Helpline number 011-2306 3800
For Technical queries for Udyam Registration or Udyam Registration Certificate Download, Helpline number 011-2306 2354
MSME contact address – Ministry of Micro, Small and Medium Enterprises, Udyog Bhawan, Rafi Marg, New Delhi – 110011